Strategy
In our day-to-day activity we use the knowledge and long-term experience of the company´s TOP managers from the field of business.
We choose right procedure for the acquisition of investments when we gradually purchased new, modern equipment.
We always try to be step ahead and develop new innovative solutions and successfully implement them in the production process.
We rely on the honesty and diligence of the people in our region. After training, our employees are top experts, and they can handle several professions.
We gradually fulfil our vision to be significant supplier to automotive industry.
To successful fulfil of our strategy we use following tools:
Integrated management system
KERN s.r.o. has implemented integrated management system, which is regularly examined every year by certified authority through the control audits.
Quality
KERN s.r.o. has implemented quality management system according to ISO 9001 standard. TOP management of the company strongly emphasizes to continuously improvement of quality management system, which is a fundamental prerequisite of customer satisfaction with KERN s.r.o. products and services. All employees of the company are involved, depending on their abilities, in the fulfilling of the Quality Policy. The company management creates favourable conditions for the employees so they can work easily, safely and with quality and reach high productivity.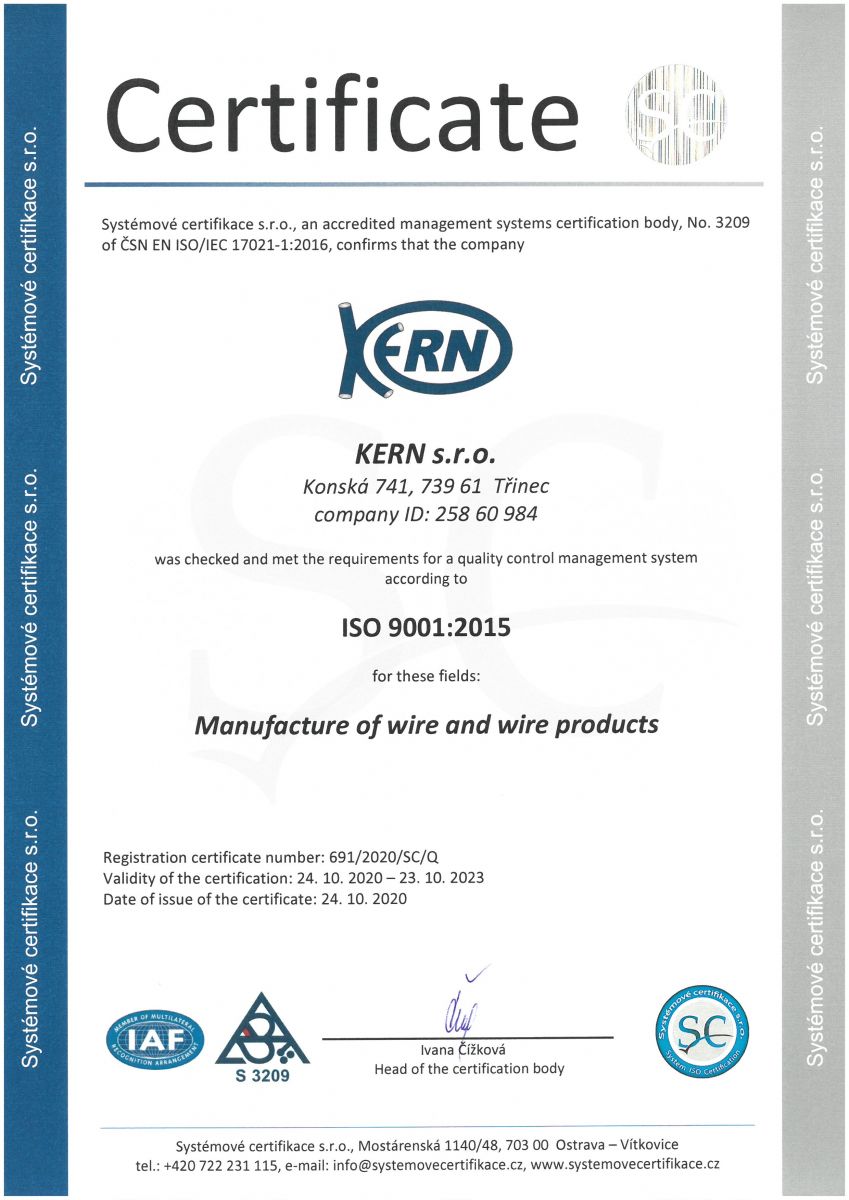 Ecology
The company management is aware their responsibility toward future generations for preserving a positive environment and the basic right of each person to live in such an environment. And that is why it sees environmental protection as its priority task and assigns a leading position to this element of the integrated management system
Since the start of 2002 there has been systematic implementation of the progressive concept of the company control system, this being the introduction, certification and constant improvement of the integrated management system.
The core pillars of this system are quality management system, environmental management system an occupational health and safety management system. The company owners use and want to continue using the latest technology with a high productivity of manufacture resulting in quality products that does not burden the environment and allows safe work.
KERN s.r.o. is certified according to ISO 14001:2015 standard and has a designated environmental policy. The regular designation and performance of environmental managements goals and programmes, undergoes constant improvement in this area. One of the long-term planning tools is the environmental management strategy, which contains binding procedures for the individual activities of trading and responsibility for adherence to them. There is an ecologist in the KERN s.r.o.

Atmosphere
From 2013 company operates three stationary sources. The facilities are maintained in a good technical state and checked regularly. Operation of stationary emission sources is approved by Krajský úřad Moravskoslezského kraje. The set emission limits of air pollutants are constantly observed.
Waste water
Waste water from technological processes is being cleaned in own neutralization station, which is in operation from 2005 and was modernized in the end of 2019. The station is kept in good technical conditions. Neutralization station is operated according to the operation rules. The company has a permitted maximum amount of water discharged into municipal waste water treatment plant. Limits are also designated for pollutants in water. Pollutants in waste water are regularly monitored and discharged water is constantly measured. All the designated limits are observed. In case of emergency the company has prepared its own emergency plan.
Residual waste
The waste management in our firm has been approved by the state authorities. We sort waste in production as well as in office buildings. The removal, disposal and dumping of waste is performed by an external organization with authorization for this activity. This service is performed on the basis of contractual agreements

We have set up waste management plan for the company KERN s.r.o. according to section 44 paragraph 5 of Act No 185/2001 Coll. Concerning waste and amendment of certain other acts. There is position of waste manager in the company KERN s.r.o.

Data in the field of environmental protection is sent regularly to the Integrated System for Compliance with Reporting Obligations in the environmental area (ISPOP).

Our company has its own document – Basic Assessment of Ecological Harm Risk – drawn up according to valid regulations.
Safety
KERN s.r.o. has implemented occupational health and safety management system. This system is certified according to ISO 45001:2018. All employees are committed to fulfilling the content of integrated policy according to their abilities. The company´s management crates a favourable climate for employees so they can work calmly, safely and with quality, while achieving high productivity.